Current Leadership and Professional Services Team

In 2021, David Bakker moved to Chief Executive Officer from Director of Finance and Corporate Services. David has an extremely strong and diversified background in Long Term Care. His knowledge and signature skills focus on Strategic Planning, Financial Management, Stakeholder Engagement and Leadership.

David's professional experience includes numerous years within the St. Joseph's Healthcare System at St. Joseph's Villa.

David is a member of the Executive Leadership team and will be instrumental in mentoring and supporting the other Leadership Team members through his strong financial management skills and leadership and coaching abilities.


Maureen spent almost 20 years working in nutrition and environmental services in the Long-Term Care sector before joining Saint Luke's Place in June of 2004.

Throughout her career, Maureen continued her education and professional development by acquiring credentials in: Food Service & Nutrition Management, Fundamental Housekeeping Methodology, Administrator Certification and Certified Nutrition Management.

With nearly 30 years experience in Long Term Care, Maureen brings many years of hands-on experience to her role. This experience, combined with the knowledge and skills she has gained over her career, enables Maureen to lead her staff in providing quality service to our residents.

In June of 2018, Maureen assumed the role of Long Term Care Administrator and is responsible for the effective delivery of all resident care and services for Saint Luke's Place Long Term Care in accordance with the MInistry of Health and Long Term Care and other relevant Acts and Regulations.


Sarah joins our Leadership Team with a strong background in various areas of the Human Resources portfolio – recruitment, hiring, training and team development. Sarah also has a strong background in Health and Safety.

Sarah's experience includes industries such as health care, construction and government agencies. Her attention to detail will make her a valued member of the Leadership Team as she is familiar with the requirements of meeting and maintaining government standards.

Sarah lives in Cambridge with her family.



Sandy joined Saint Luke's Place as a Registered Nurse in 1995 as a new graduate. She started as a part-time Registered Nurse, moving to full-time night Nurse Manager, a position she held for almost 10 years.

In 2007 Sandy took on Education Coordinator responsibilities, shortly thereafter, adding all of the Infection Prevention and Control duties as well. Sandy is a certified Infection Control Practitioner having successfully completed the Non-Acute Care Infection Control Practitioner Training Course. She is committed to the highest standards of education for our staff and infection control practices for Saint Luke's Place.

In 2013, Sandy added another role – Associate Director of Care. She transitioned to the role of Health and Wellness Director where she works collaboratively with nursing specialists in our organization to ensure that our residents receive excellent and innovative person-centred care. Sandy has recently taken on the role of Director of Nursing and Personal Care.

Sandy enjoys the challenges and demands of her work at Saint Luke's Place, balancing those with the responsibilities and rewards of an active family life.


Jennifer Coburn joined Saint Luke's Place May 2020 in the position of Associate Director of Nursing and Personal Care.

A graduate of the Registered Practical Nursing Program in 1990 from Conestoga College, Jennifer brings to the leadership team more than 30 years of healthcare experience which includes; foodservice and nutrition, hospital pediatrics, community nursing care and services (Victoria Order of Nurses), Resident service coordination, Health and Wellness administration and General Management of retirement living.

Jennifer is a passionate leader whose goal is to be of service of others. She works hard at building positive relationships with personnel, residents, and families.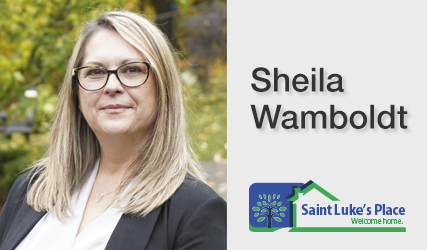 Sheila is a proud mother of 2 sons and spent nearly 20 years working in manufacturing management. After plant closures and seeing both parents through numerous treatments and procedures as they battled cancer, she decided to return to school and fulfill her childhood dream of becoming a nurse.

During her studies she worked a summer as a Personal Support Worker (PSW) at Saint Luke's Place where she found great satisfaction and truly enjoyed working with the elderly population. After graduating from Nursing Sheila moved to Saskatchewan where she gained a wealth of skills and knowledge.

Shelia's passion is taking care of others and has worked in acute and primary care. Her heart is with senior care therefore most of her nursing career has been in long term care. Sheila is a Certified GPA Coach, has extensive education in Restorative/ Rehab Care Education, RAI and Resident Advocacy.

Sheila joined Saint Luke's Place June 2020 as an integral part of the Nursing leadership Team as Health and Wellness Manager where she supports the team by providing clinical expertise and guidance for nursing programs/systems. She works alongside the front-line team members, and uses her skills and knowledge to foster growth through education and development, promoting for best-practices while doing her part to ensure that our Residents receive excellent quality care and services on a daily basis.


Heather has a rich history with the City of Cambridge, having moved to here at the age of 9. Heather attended Manchester Public, Lincoln Public and Galt Collegiate Institute.
During her teenage years Heather volunteered as a Candy Striper at Cambridge Memorial Hospital.

Heather went on to further her education at Humber College where she acquired the skills to become a Registered Practical Nurse.

Over the past twenty plus years Heather has spent most of her career working in Gerontology in a long-term care setting. In 2011 she joined the team at Saint Luke's Place. She has added to her education taking courses in Dementia care, Wound Care, Advance Diabetic foot care and RAI MDS.

When Heather is not working, she enjoys gardening and spending time with her Shih Tzu.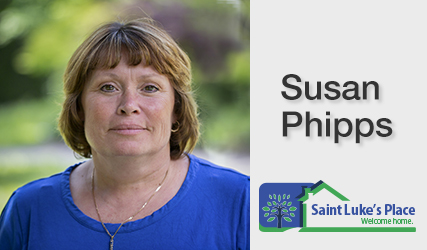 Susan has spent the last 28 years working in Long Term Care and Retirement, devoting much of her working career to serving the needs of seniors.

Before joining Saint Luke's Place in September 2014 as the Support Services Assistant, Susan has worked in different capacities in healthcare from Housekeeping, Laundry and most recently Foodservices.

Susan continued her education and professional advancement becoming a Certified Food Service and Nutrition Manager in 2013.

Susan brings many years of practical, hands-on experience to her role, and she has established strong relationships with residents, staff and management for her demonstrated dedication to the Saint Luke's Place community.


Krista has been providing recreational and social programming for the residents of Saint Luke's Place since 2004.

Krista has a Bachelor of Arts Degree in Recreation and Leisure Studies from the University of Waterloo, specializing in Therapeutic Recreation and Gerontology. Prior to joining the Saint Luke's Place team, Krista worked with the Seniors' Day Program in Elmira and New Hamburg.

Krista wanted a way to offer her creativity and love for horticulture to others. It was through her work with seniors that she discovered she could share these passions and, at the same time, help to provide an excellent quality of life to those living in Long Term Care.

In 2017, Krista was appointed to the position of Activation Manager, leading the Long Term Care Activation Team at Saint Luke's Place. Krista and her team are excited to develop and offer a diverse activation program to enrich the lives of the residents we are privileged to serve.


Enrico (Rico) was born in Toronto where his parents owned a hardware store that also made custom cabinets on site. At the age of 9, his family moved to Brantford where his father opened a renovations company and this is where from a very young age, Enrico started learning the trades and honing his abilities. Enrico attended Mohawk college to pursue Architecture and Drafting degree. His dream was to design one of a kind, unique homes.

For many years, Rico was the Build Coordinator for the Brantford Habitat for Humanity. At their peak, they were building broad range of homes for those in need and he enjoys supporting and giving back to the community.

Enrico has experience working in manufacturing facilities, such as S.C Johnson, medical marijuana and other corporate companies which allowed him to improve his maintenance skills, understand government regulations and develop as a manager in a large-scale industrial setting. This experience and knowledge will make Rico a valuable member of the Leadership team and will enable him to effectively lead the maintenance department in providing quality service to our residents and tenants.

Rico Lives in Brantford with his wife and stepdaughter.



David is a lifelong resident of Hespeler having lived on a family farm on Townline Road. His early involvement with Saint Luke's Place started when it opened its doors with many family members being the very first residents and members of the Saint Luke's Place auxiliary.

David is a graduate of Mohawk College in Business and has attended Conestoga College for Human Resources and the Ontario Real Estate program.

David brings over 30 years of maintenance experience as well as working with volunteers and guests at his previous employer which makes him a strong resource for our management team overseeing the our two independent senior apartment units with a focus on quality service and satisfaction.

David met his wife Lisa after a musical at St. Andrews Hespeler Church in 1995 and since have had two sons. He is still singing in a men's group called Joyful Sound and has entertained Saint Luke's Place on various occasions.


Dr. Jay Baker,
Medical Director & Home Physician


Dr. Craig Albrecht,

Home Physician

We also have on staff:
Physiotherapist
Registered Dietitian
Social Services Consultant
Chaplain
Board of Directors and Management Team
Saint Luke's Place is governed by a voluntary Board of Directors. The Board of twelve is comprised of a diverse group of skilled, talented and experienced community leaders who give generously of their time to attend Sub Committee and monthly Board meetings. The Chief Executive Officer and Senior Managers are responsible for the day to day operations of Saint Luke's Place and report regularly to the Board of Directors. Charitable not-for-profit Long Term Care Facilities provide public accountability as Board Members are volunteers from the community.
Current Board Member Bios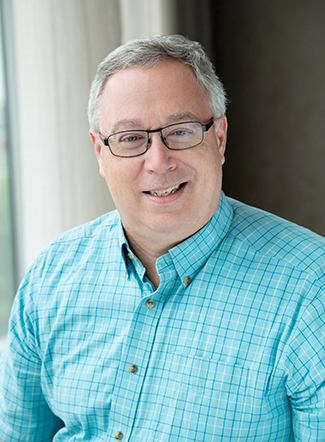 Paul joined the Board of Directors of Saint Luke's Place in 2017. He is a tax director at Sun Life Financial and has spent 30 years in financial reporting and accounting roles.

Paul is an active member of Waterloo United Church where he is Treasurer and serves on the Ministry and Personnel, Social and Worship Committees. He was a church musician for many years, plays the organ at Doon Pioneer Village and has been music director for the the Elmira Little Theatre and the Peninsula Players.

Paul has a son who lives at the Field of Dreams, part of a community project with Elmira Community Living.

Paul has a Bachelor's degree from the University of Waterloo, a Master's degree from Wildrid Laurier University and is a designated accountant (CPA, CMA).


Neil Brennan joined the Board of Saint Luke's Place in 2012, and he is a Past President of our Board. His interest in Long Term Care resulted from personal experience supporting a senior relative in obtaining additional care.

Neil has almost 40 years of work experience in our Waterloo Region community, focused in management roles in Finance and Risk Management. He has previous volunteer Board experience with a Not-for-Profit Housing Corporation and a Family Crisis Shelter.

Neil has a Business Administration degree from the University of Western Ontario, and is a designated accountant (CPA, CA).



Anne Tinker is the Founder and Executive Director (retired) of Cambridge Shelter Corporation, a non-profit, charitable organization delivering services to individuals and families experiencing homelessness. Anne is Past Chair of, and has been a Board member of Saint Luke's Place for many years. She is also Board Chair of Wesley United Church, Chair of the Grand River Grant Review team of the Ontario Trillium Foundation, a member of the Board of Community Support Connections, and an active Rotarian.

In addition, she serves as a Peer Reviewer and Chair of the Standards Program for Imagine Canada. Throughout her career, Anne has worked with seniors and other vulnerable populations and has advocated to improve access to supports and services that are available in her community.



Stan Jones, a Chatham, Ontario native attended the University of Guelph, receiving an Honours BA in Geography in 1972 and then a B.Ed from the University of Western Ontario a year later.

Stan was employed by the Waterloo Region District School Board, teaching at Galt Collegiate Institute for 14 years and a further 16 years at Southwood Secondary, retiring in June of 2003.

Stan has been a long time member of St. Andrew's Hespeler Presbyterian Church, where he served as an Elder for 29 years, Board member for over 20 years and presently sits on the Operations Committee of the church. He joined the Saint Luke's Place Board in 2009 acting as Chair the Board in 2014 and 2015.

Stan has also taken on various leadership roles with the Rotary Club of Cambridge North and as a member of the University of Waterloo Earth Science Museum Board of Directors. Stan's civic pride was evident as he was part of a team that organized Hespeler Reunions in both 1996 and 2006, being editor of a Reunion Book for both events.


Steve Parker joined the Board of Directors at Saint Luke's Place in 2006. Now, a 37 year resident of Cambridge and a licensed Ontario funeral director, Steve worked in the Cambridge area as a director before joining the staff at Corbett Funeral Home shortly after it opened in 1987. After 18 years of service to that company he purchased the funeral home in 2006, becoming the owner and managing director.

More recently, in 2015, he purchased the Lounsbury Funeral Home in Cambridge (Hespeler) and continues to own and operate both funeral homes serving the residents of Cambridge in their time of need. Driven by his compassionate need to serve others and his commitment to the community, Steve is honoured to serve on the Saint Luke's Place Board of Directors.

Steve found a home on the Board of Directors at Saint Luke's Place and has served as chair of the finance committee and later serving a 2 year term as president of the Board. He is committed to the residents of Saint Luke's Place in helping to ensure that it truly becomes their home rather than just a place to live.


Robert Pettitt was born in Hamilton, Ontario and is a graduate of McMaster University and the University of Toronto Law School. He practiced law in Cambridge for over 40 years, retiring at the end of 2012.

Bob has been a member of the Saint Luke's Place Board of Directors since it's inception in 1974 and is a past Chair of the Board. He presently chairs the Redevelopment Committee of the Board.

He is an active member of Wesley United Church, Cambridge where he sings in the choir and is a member of the Board of Trustees.

Bob further contributes to the Cambridge community as a member and past President of the Cambridge Kiwanis Club and a member of the Board of Directors of the Cambridge Kiwanis Non-Profit Housing Corporation.


John Schneider, native of the Region of Waterloo, grew up on a farm on what is now Benjamin Rd., between Waterloo and Heidelberg, Ont. He participated in many rural organizations such as the 4H Club and Junior Farmers. After attending Stratford Teachers' College and Wilfrid Laurier University, John was an educator with the Waterloo Region District School Board for several years in Elmira, Ont.

John and his family have lived in Cambridge for 40 years, where most of John's career was in administration with three local trucking companies. In that capacity, he also held various positions with the regulatory organizations in which trucking operations participate.

In retirement, John has volunteered with Pride Stables in Kitchener, and currently is a volunteer driver for Community Support Connections providing transportation for the elderly, to and from their medical appointments. He has also been the Archivist for the Kitchener-Conestoga Probus Club since 2012. As an active member of St Luke's United Church, he has fulfilled various roles within its organization.

John loves to golf and spend time playing with his grandchildren.


In addition to being an active board member, Bruce is an active member of the Society for Human Resources Management and holds a Professional HR certification (CHRE – Certified Human Resources Executive) this is a designation that is reserved for the HR profession's proven, high-impact leaders—trusted advisors with breadth of knowledge, strategic orientation, ability to build business-aligned HR strategy, and who exercise significant impact and influence across their organizations.

Bruce is currently employed by Steelcraft Inc. and he has served in human resources management roles with Nestle Waters Canada, Kodiak Group Holdings, an affiliate of Williamson Dickies, Research in Motion (Blackberry) and NCR, where he began his career.

Bruce has multiple disciplines in Operations and Human Resources and brings more than 30 years of business experience to the role. He holds a diploma in Business Administration from Wilfrid Laurier University as well diplomas in Electronics Engineering, Manufacturing Engineering and Human Resource Management.


Margot recently retired from Saint Luke's Place after 35 years of service to seniors in our community. She joined Saint Luke's Place in 1982 as a part- time evening charge nurse and over the years, professional growth and a commitment to seniors saw her assume the role of Director of Care in 2004.

Margot has been certified as a Long-Term Care Administrator through AdvantAge Ontario (formerly OANHSS) and she has also been certified as an accreditation surveyor for CARF Canada, which assures that health care providers, such as Saint Luke's Place, strive to offer the highest quality services.

Margot joined the Foundation Board of Directors in 2017, and just recently joined our Board of Directors.

As Margot has said, "my life has been about seniors and their care" and well knows the importance of Saint Luke's Place in the lives of our seniors.

A lifelong resident of Cambridge, Margot continues to live in Cambridge with her husband and has two daughters.


Patrice Wappler was a long serving employee of the Royal Bank, with over forty years of service. It was that work, in fact, that brought Patrice to Saint Luke's Place. In 1976 (the year Saint Luke's Place opened) the Royal Bank established an on-site branch to service the tenants and residents of Saint Luke's Place. Patrice visited here as the bank representative for many years.

Over those years, Patrice became friends with many of the residents and tenants and also joined the Auxiliary assisting with their fundraising and other special events.

Patrice joined the Saint Luke's Place Foundation in 2008 and served as Chair for many years. Patrice remained on the Fundraising Committee and just recently became a member of the Saint Luke's Place Board of Directors, bringing her many years of experience back to Saint Luke's Place to enhance the lives of those who call Saint Luke's Place home.